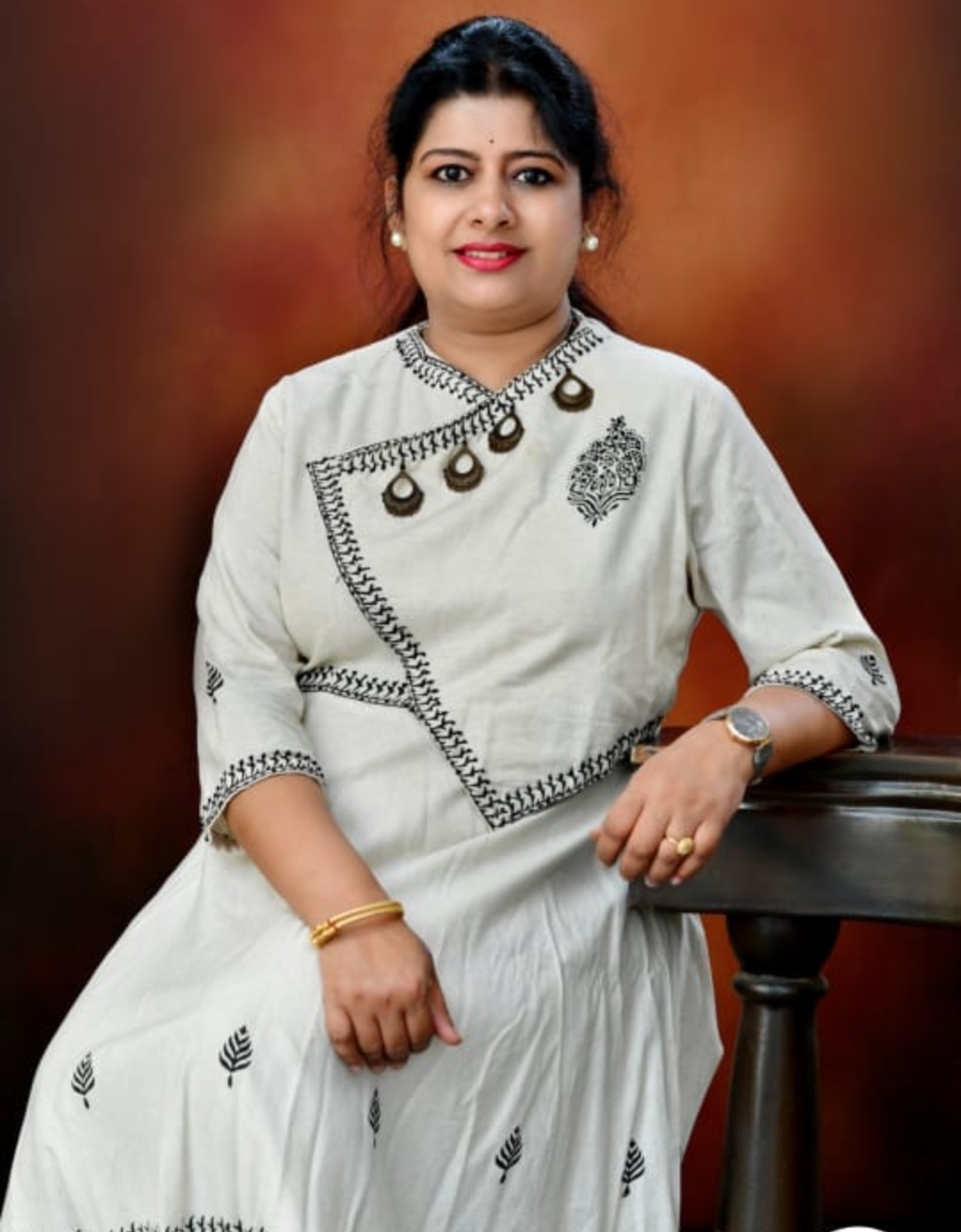 MEET THE INVENTOR
Ms RAJANI RAO
YOUR COACH & FRIEND
A JOURNEY OF THOUSAND MILES BEGINS WITH THE FRIST STEP !
* Love for kids and Passion for teaching made her choose teaching as her profession and started her professional journey as a Teacher in a pre school from the year 2010.
*In the year 2011, Rajani Rao started her career as Founder by opening her preschool 'AALIPINES ACADEMY 'JR SCHOOL in Mysore and started experimenting new creative ways of learning and teaching. Soon in the very beginning of her career she realised that her passion was the purpose of her life. *2012, she came up with her second branch of school successfully.
* Understanding the role of teacher in early years, in 2013, as a Director She initiated and started a very unique integrated. TEACHER'S TRAINING INSTITUE and offered diploma and advanced diploma courses for the trainees.
* In next 2-3 years she was able to stabilize her school & Teacher Training Institute & became one of 'The Best Institution in Mysore city' and won the Prestigeous 'EDUCATION EXCELLENCE AWARD' by Brands Academy-2014.
* From 2016, She Started exploring training teachers on various platforms and got amazing results. She gained an identity of Trainer & Speaker on various National events and trained more than 4000 teachers in various workshops and semianrs.
* In 2017 she indulged herself as Curriculum Developer and created a very unique 21st century curriculum for Play group, Nursery, Junior and Senior classes, she got her curriculum published and gained a new identity as a Publiisher. She is currently serving as CEO @ ACADEMY PUBLIISHER BANGALORE.
* Presently the 21st century curriculum is being used in more than 500 schools across india. Parents, teachers, schools and kids are very happy and satisfied with the learning outcomes which is documented in our testimonial section.
* 2019 gave her an opportunity to research the gaps in the present phonic methodology and got lucky to invent a new phonic methodology 'CODING PHONICS – EASIEST, FASTEST & SIMPLEST PHONIC METHODOLOGY IN THE WORLD TO LEARN TEACH & PRACTICE PHONICS' and became a humble Inventor.
*As a Researcher, She was invited to Finland to present her research in the International Symposium in 2020 and address delegates from more than 20 countries.
* For this innovation, She is honoured as 'Global Ambassador' from Global Research. Foundation, an international organization bringing in all edu innovators under one platform.
* She started a new vertical as a Digital Coach by launching 'LEAD GEN ACADEMY', training teachers on Coding Phonics methodology and 21st century education on digital medium and got successful by enrolling more than 1500 students across 8 countries in the world within a span of 6 months.
* 'THE CODING PHOINCS ACADEMY INDIA' was launched on the onset of the popularity of the unique methodology and franchised multiple branches of the Coding Phoincs Institute across India and became a successful Franchisor.
* 2021, she came up with two significant Ventures: 1. ACADEMY ONLINE SCHOOL – Providing online programs for thousands of pre primary kids across India.
2. Publishing the most significant Coding Phonics Books.
* Ms. Rao is opted as Co- Founder of NIFT – National Institute for Foundation Teachers and is heading the Curriculum and Training Department of the organization.
* And now she is on a mission to empower pre primary educators, parents and students to achieve 100% foundational literacy and 21st century education.
TO BE CONTINUED.......