EASIEST , SIMPLEST , FASTEST

PHONIC
METHODOLOGY IN THE WORLD
TO LEARN ,TEACH & FOLLOW PHONICS
GLIMPSE OF OUR LEARNING RESOURCES
OUR STUDENTS ACROSS THE WORLD !
Coding phonics invented by Ms.Rajani Rao which makes kids easy and stress free learning in reading English effectively. As per Rajajni mam guidelines we should implement this methodology in our classrooms and train our younger generation accordingly to build strong community. I am very grateful and thankful to Rajani mam as this course is worth a Diamond for me. May god bless rajani mam
Smita Krishnan
DUBAI , UAE
PARENT & EDUCATORS REVIEWS
OUR STUDENTS ACROSS THE WORLD !
  I thank Ms.Rajani mam for the outstanding Coding phonics program. We are so grateful for the great teaching methodologies of rajani mam. The Ugandans cant believe that I have done an online course one like this Coding Phonics. Under Rajani mams mentoring I have become the 1st coding phonics Learner and educator in Uganda i am so proud of this. I have started implementing this methodology in my online classes and kids started enjoying each class and really able to read. I have really got great knowledge from your lessons and learnt lot of new things which is out of way to even think that it's possible. I wish Lead Gen Academy and the Founder Ms. Rajani rao all the best for their future.
 Elizabeth Beth
UGANDA
OUR STUDENTS ACROSS THE WORLD !
There's a lot of hands-on and examples on phonics prompting which is very useful and important. Enjoyed all your sharing especially on parenting experiences and stories about your children including your struggles with them. Very meaningful and appropriate for me as I have 2 young children and can have a glimpse of whats to come, I enjoyed your sharing sessions as its very useful. It takes a lot of experience through the years to be able to share and thanks for sharing all your knowledge and impart all the skills to us.
Kushi
USA
OUR STUDENTS ACROSS THE WORLD !
   Coding Phonics is an excellent course for me as a parent this course I came across this course through and FB ad and attended Rajani mam webinar I was so much impressed by madams teaching about the reading skills in kids and how it can be achieved. It was very easy for me to learn and deliver the reading teachniques to my 4yrs old toddler who has not yet started formal schooling. I have gone through many other training programs related to early childhood and myself being an Teacher trainee I am very confident that this is the best course to impart reading skills in the kids. Me and my kid have enjoyed each lessons and stories are extra ordinary and lively to hear. As a mother I am very happy to see my child learning so systematically from the scratch. Watching the lead gen academy face book page videos and coding phonics video my kid started telling " STOP MUGGING AND START CODING "with her tiny friends. Now my child is able to construct her own alphabet stories and narrate it to her toys. This course is helping my kid to develop speaking skills too. I thank Rajani mam from depth of my heart for this wonderful course.
 Akshaya M
ARGENTINA
OUR STUDENTS ACROSS THE WORLD !
Coding phonics program was very informative and learnt alot from this program.
Ms.Rajani has invented excellent techniques for teaching in school which will help the average and below average child to understand the concepts. I Will definitely love to join for some more online courses
Britta M Marshall
BEHRAIN 
OUR STUDENTS ACROSS THE WORLD !
Respected Mam, I am Nadia from Pakistan. My experience here as an educator and learner has been phenomenal and I would highly recommend this course to every pre – primary educator who want to nurture English language development in the kids. Coding phonics is such a wonderful course that as an ECCE educator I realize how much we are lacking in teaching techniques and methodologies like Coding phonics invented by Ms.Rajani Rao which makes kids easy and stress free learning in reading English effectively. As per Rajajni mam guidelines we should implement this methodology in our classrooms and train our younger generation accordingly to build strong community. I am very grateful and thankful to Rajani mam as this course is worth a Diamond for me. May god bless rajani mam
Nadia Ali PAKISTAN
APPRECIATION FROM EDUCATORS ACROSS INDIA !
Congratulations for an excellent conference, with an amazing program great speakers and fantastic lecture especially delivered by the coding phonics presenter made the program more effective by involving the audience and showing play cards .It was really a wonderful experience for me and my colleagues .The presenter of m/s the coding phonics delivered her lecture with full confidence .She did a great job I wish to congratulate her and entire team of NIFT on the beautiful success of the conference . It was a splendid event both in terms of intellectual quality and social gratification. "Congratulations and wishes for your next adventure "! On Your well deserved success. We all the jammuities would like to have the same program with the same spirit from the NIFT team in our city of temples Jammu UT.
Ram Sharma Principal
BloomingDay Public School
JAMMU & KASHMIR
VALIDATION FROM EDUCATORS ACROSS INDIA !
I am Nagapadma Gandham serving as the Principal for a private organisation. Recently I got an opportunity to meet Mrs Rajani Rao.As I am very much passionate towards preprimary education. One fine morning my eye grabbed the sight of Coding phonics. I immediately got registered to the course. Let me give you an overview of the course Coding phonics is an amazing, empowering and power packed course which I have never dreamt of. There is a massive change and transformation in my approach after completing the course. Specially the unique approach of handling the entire course is so effective and mind-blowing. Many innovative methods are introduced and practiced by her students. It is a 100% proven method.
Rajani mam has added core values and human connection in the entire course. The recorded videos shows literally the hardwork of mam and her team. Everything is very crystal clear and adoptable. Most important thing is it is available at the cheapest possible price and each and every penny paid is thousand dollar worth.I want to listen to Mams voice in and on.Really if you want to fulfill your dreams and walk on the path of success then blindly follow the Course. Grab it quickly and dont regret later. My heartfelt gratitude to Mrs Rajani mam May god bless herwith abundant knowledge and conduct many more courses in future
Nagapadma Gandham
HYDRABAD
LAURALS FROM EDUCATORS ACROSS INDIA !
I think the course overall was great. It helped our staff formalize and think more deeply about the work I do. Also, I was extremely impressed with the training specifically resource person of the coding phonics ability to make complicated concepts seem very simple. She was a great instructor and it showed by how she engaged with all teachers. Additionally, she was always willing to help teachers if they were falling behind. This made it very easy to follow along especially if you missed it the first time. She would take additional time out. Overall great class and great instructor. I will definitely recommend this to upcoming deal professionals going forward.
Principal, Rajendra Public School, Sirsa
PUNJAB & HARYANA
MEET THE INVENTOR !
Ms RAJANI RAO
YOUR COACH & FRIEND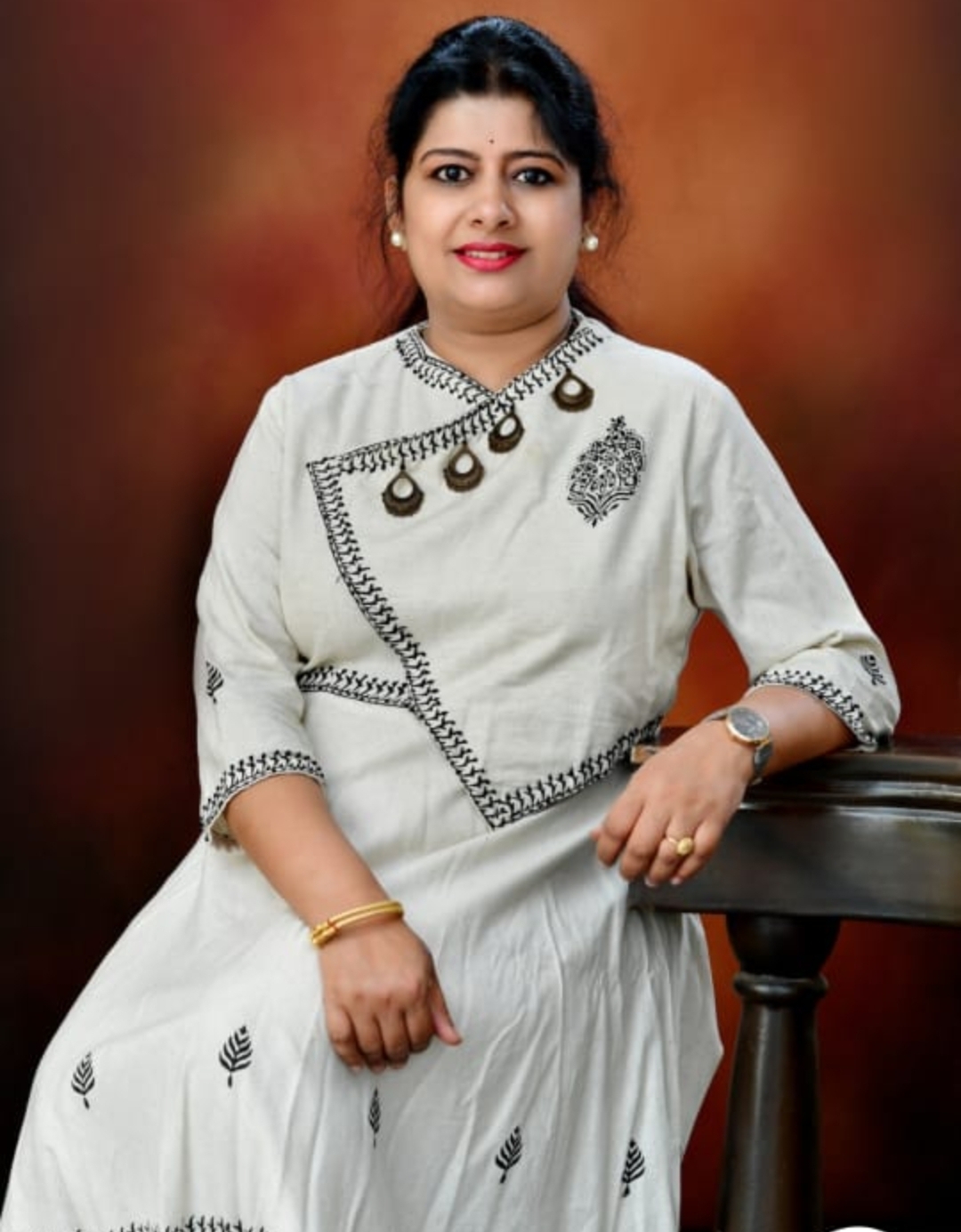 A JOURNEY OF THOUSAND MILES BEGINS WITH THE FRIST STEP !
* Love for kids and Passion for teaching made her choose teaching as her profession and started her professional journey as a Teacher in a pre school from the year 2010.
*In the year 2011, Rajani Rao started her career as Founder by opening her preschool 'AALIPINES ACADEMY 'JR SCHOOL in Mysore and started experimenting new creative ways of learning and teaching. Soon in the very beginning of her career she realised that her passion was the purpose of her life. *2012, she came up with her second branch of school successfully.
* Understanding the role of teacher in early years, in 2013, as a Director She initiated and started a very unique integrated. TEACHER'S TRAINING INSTITUE and offered diploma and advanced diploma courses for the trainees.
* In next 2-3 years she was able to stabilize her school & Teacher Training Institute & became one of 'The Best Institution in Mysore city' and won the Prestigeous 'EDUCATION EXCELLENCE AWARD' by Brands Academy-2014.
* From 2016, She Started exploring training teachers on various platforms and got amazing results. She gained an identity of Trainer & Speaker on various National events and trained more than 4000 teachers in various workshops and semianrs.
* In 2017 she indulged herself as Curriculum Developer and created a very unique 21st century curriculum for Play group, Nursery, Junior and Senior classes, she got her curriculum published and gained a new identity as a Publiisher. She is currently serving as CEO @ ACADEMY PUBLIISHER BANGALORE.
* Presently the 21st century curriculum is being used in more than 500 schools across india. Parents, teachers, schools and kids are very happy and satisfied with the learning outcomes which is documented in our testimonial section.
* 2019 gave her an opportunity to research the gaps in the present phonic methodology and got lucky to invent a new phonic methodology 'CODING PHONICS – EASIEST, FASTEST & SIMPLEST PHONIC METHODOLOGY IN THE WORLD TO LEARN TEACH & PRACTICE PHONICS' and became a humble Inventor.
*As a Researcher, She was invited to Finland to present her research in the International Symposium in 2020 and address delegates from more than 20 countries.
* For this innovation, She is honoured as 'Global Ambassador' from Global Research. Foundation, an international organization bringing in all edu innovators under one platform.
* She started a new vertical as a Digital Coach by launching 'LEAD GEN ACADEMY', training teachers on Coding Phonics methodology and 21st century education on digital medium and got successful by enrolling more than 1500 students across 8 countries in the world within a span of 6 months.
* 'THE CODING PHOINCS ACADEMY INDIA' was launched on the onset of the popularity of the unique methodology and franchised multiple branches of the Coding Phoincs Institute across India and became a successful Franchisor.
* 2021, she came up with two significant Ventures: 1. ACADEMY ONLINE SCHOOL – Providing online programs for thousands of pre primary kids across India.
2. Publishing the most significant Coding Phonics Books.
* Ms. Rao is opted as Co- Founder of NIFT – National Institute for Foundation Teachers and is heading the Curriculum and Training Department of the organization.
* And now she is on a mission to empower pre primary educators, parents and students to achieve 100% foundational literacy and 21st century education.
TO BE CONTINUED.......
LOT MORE
ACKNOWLEDGEMENTS
FROM EDUCATORS & PARENTS
UNAPOLOGITICALLY
CONTACT US @
9606937338
9606937339
9606937340
9606937342
visit : www.thecodingphonicsacademyindia.com

CODING PHONICS
EASIEST , SIMPLEST , FASTEST

PHONIC
METHODOLOGY IN THE WORLD
TO LEARN ,TEACH & FOLLOW PHONICS